Florida
If you have found us because you have experienced a loss, our hearts go out to you. We welcome you to reach out and join us as we honor babies gone too soon. If you would like to speak with someone or need financial assistance fill out our online application form and someone who can help will be in touch.
Who we serve
The need is great in the state of Florida. There are no government funds available to support bereaved families who need to make final arrangements for their baby and ongoing support to rebuild their lives. With your support, we can support these families and make a difference in Florida.
The Florida Chapter has assisted many families with funeral services, hosted memorial gatherings remembering babies, and holds its annual Rock & Walk gathering the community and bereaved families to walk and raise funds together in honor of their baby to help future families.
Donate to help support bereaved families in Florida now
Upcoming Events:
Rock & Walk Palm Coast
Date: April 6, 2019
Time: 10:00 a.m.
Location: Central Park in Town Center
975 Central Ave. Palm Coast, FL 32137
To Register: 2019 Rock & Walk Palm Coast
Rock & Walk Daytona
Date: October 12, 2019
Time: 5:00 p.m.
Location: Riverwalk Park in Port Orange
3431 S. Ridgewood Ave. Port Orange, FL 32129
To Register: 2019 Rock & Walk Daytona
Disney Meet & Greet
Date: 11/10/2019
Time: 12 – 2 p.m.
Location: The Magic Kingdom at Walt Disney World in Orlando.
This will be an opportunity for people to bring their bears and wear their t-shirts proud! They get to share their children with all of Disney.
SUPPORT GROUPS:
To stay up to date on events near you, and to find out how you can join the movement across Florida, connect with us on Facebook, join our email list, or reach out to one of our Chapter Leaders! We will be happy to speak with you by phone call or text.
Like us on Facebook: Florida Chapter of the TEARS Foundation
Florida Chapter Leaders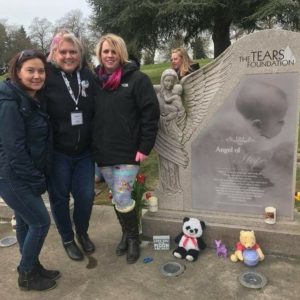 Margaret Pilon (732) 610-8771
Kelly Steffee (407) 902-6788
Cheryl Bellhouse (407) 509-4428
Tiffany Grimes (386) 679-1568
floridachapter@thetearsfoundation.org
floridawalk@thetearsfoundation.org
Chataginier, 2019 Gold Sponsor
Michelle Marie American Idol, 2019 Palm Coast Silver Sponsor
Healing with Wisdom, 2019 Bronze Sponsor
Hallmark Stores, 2019 Bronze Sponsor
Calvary Palm Coast, 2019 Palm Coast Bronze Sponsor
Beach Front Grille, 2019 Palm Coast Bronze Sponsor
Lohman's Funeral Home, 2019 Palm Coast Bronze Sponsor
Mad Dogs Flag Football, 2019 Palm Coast Bronze Sponsor
Flagler School of Dance, 2019 Palm Coast Bronze Sponsor