North Dakota
If you have found us because you have experienced a loss, our hearts go out to you. We welcome you to reach out and join us as we honor babies gone too soon. If you would like to speak with someone or need financial assistance fill out our online application form and someone who can help will be in touch.
Who we serve
The need is great in the state of North Dakota. There are no government funds available to support bereaved families who need to make final arrangements for their baby and ongoing support to rebuild their lives. With your support, we can support these families and make a difference in North Dakota.
The North Dakota Chapter of The TEARS Foundation has assisted many families with funeral services, hosted memorial gatherings remembering babies, and holds its annual Rock & Walk gathering the community and bereaved families to walk and raise funds together in honor of their baby to help future families.
Help your Community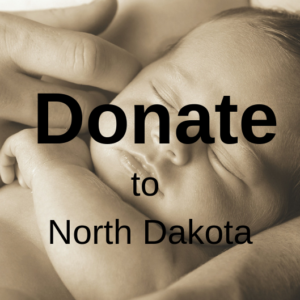 UPCOMING EVENTS:
2019 North Dakota Rock & Walk
Location: Stark County Veteran's Pavilion
801 5th Ave. W. Dickinson, ND 58601
Date: September 14, 2019
Time:  10 a.m.
Registration: 2019 North Dakota Rock & Walk
Anyone who is interested in supporting bereaved families in North Dakota is welcome and encouraged to attend one of these upcoming events, or apply to become a VolunTEAR with this form.
Pregnancy & Infant Loss Support Group
OPEN to ALL families that have suffered a pregnancy or infant loss.
When: 3rd Tuesday of each month
Time: 6:30 pm
Location: Lime Rock Resources
3239 Hwy 22 N, Dickinson, ND 58601
For more information on the North Dakota Support Group Contact Rebecca Zent  (605) 490-9761 Emal northdakotachapter@thetearsfoundation.org
These meetings are open discussion support groups. Any bereaved parent is welcome to drop in.
Stay in Touch
To stay up to date on events near you, and to find out how you can join the movement across North Dakota, connect with us on Facebook, or reach out to our Chapter Leader! We will be happy to speak with you by phone call or text.
Like us on Facebook: North Dakota Chapter of the TEARS Foundation
North Dakota Chapter Leader
Jamie Binstock (701) 202-8478
northdakotachapter@thetearsfoundation.org
Thank you to our 2019 Rock & Walk Sponsors!
Thank You, Sponsors!
Click here to learn how to become a North Dakota Chapter Sponsor
Thank you to our SUPERHERO 5K Sponsors!
Krieg Family Dental
Charbonneau Car Center
Mackoff Kellogg Law Firm
Total Control, Inc.
Tooz Construction Inc.
RJF Enterprises
Steffan Saw&Bike
England Lending
High Plains Dental
NG Construction & Environmental
Jocelyn's Soothing Massage
Ranger Energy Services