Michigan
If you have found us because you have experienced a loss, our hearts go out to you.  We welcome you to reach out and join us as we honor babies gone too soon.  If you would like to speak with someone or need financial assistance fill out our online application form and someone who can help will be in touch.
The need for support in Michigan is great, as over 1,700 babies die each year and these families need to know that they are not alone. One area hit particularly hard was Flint, Michigan, where fetal deaths increased by 58% in an already struggling population.
Who We Serve
78 families with financial assistance
$33, 095 in financial support for funerals and grave markers
Participated with the health department in a community health fair giving out pack-n-plays and safe sleep education
Each year the Rock & Walk reaches hundreds of families with a place to honor their baby.
An active Dad's support group comes together to socialize and serve others in the community in honor of their babies, including setting markers for families, making beautifully crafted infant caskets, and assisting with TEARS events.
Angel of Hope Monument has more baby names added each year with a beautiful ceremony to honor all babies gone too soon. If you are interested in having your child's name engraved on the monument in Michigan, visit MIAOHMonument
Help your Community
Anyone who is interested in supporting bereaved families in Michigan is welcome and encouraged to attend one of these upcoming events, or to apply to become a VolunTEAR with this form.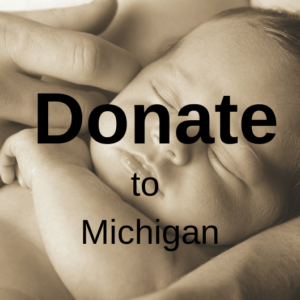 Upcoming Events
11th Annual Rock & Walk
September 16, 2023, 1pm
Lake Pointe Soccer Park – Plymouth, MI
Share your "why" by sending your photos to michiganchapter@thetearsfoundation.org no later than September 9th
Stay in Touch
To stay up to date on events near you, and to find out how you can join the movement across Michigan, connect with us on Facebook, join our email list, or reach out to one of our Michigan Chapter Leaders! We will be happy to speak with you by phone call or text.
Like us on Facebook: Michigan Chapter of the TEARS Foundation
Michigan Chapter Leaders
Shelby Shuh
Buddy Shuh 
michiganchapter@thetearsfoundation.org