New Hampshire
If you have found us because you have experienced a loss, our hearts go out to you. We welcome you to reach out and join us as we honor babies gone too soon. If you would like to speak with someone or need financial assistance fill out our online application form and someone who can help will be in touch.
Who we serve
The need is great in the state of New Hampshire. There are no government funds available to support bereaved families who need to make final arrangements for their baby and ongoing support to rebuild their lives. With your support, we can support these families and make a difference in New Hampshire.
The New Hampshire Chapter has assisted many families with funeral services, hosted memorial gatherings remembering babies, and holds its annual Rock & Walk gathering the community and bereaved families to walk and raise funds together in honor of their baby to help future families.
Help your Community
Anyone who is interested in supporting bereaved families in New Hampshire is welcome and encouraged to attend one of these upcoming events, or apply to become a VolunTEAR with this form.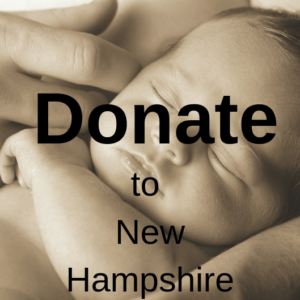 Upcoming Events:
Pregnancy & Infant Loss Support Group
Virtual Support Group 
Time: 7-8:30 pm
Date: 3rd Wednesday of every month
To join visit https://linktr.ee/NHTEARS
This is an open group with a monthly discussion topic for bereaved families. For more information
New Hampshire 2023 Rock & Walk 
Time: 10am
Date: Sunday, October 23rd
Location: Londonderry, NH
Contact: Kim Badessa: 603-546-8222 or Darcie Champagne: 347-529-9476 or [email protected]

The heart of our annual event, the Rock & Walk is to let bereaved families know they are not alone. We strive to build awareness about pregnancy and infant loss by bringing the community together to support these families. 
Click here to get registered today!
Angel of Hope Monument in Merrimack, NH
The monument will be located at Abbie Griffin Park, 6 Baboosic Lake Rd in Merrimack, NH. It will be a tranquil place to remember, honor, and never forget the little ones who have gone too soon through pregnancy or infant loss. 
The Angel will be holding a baby and a poem of hope is etched in the granite next to the Angel.  Two butterfly monuments will be placed on the sides of the Angel of Hope and include the names of babies who are loved and remembered.  Benches will be placed so families can have a place to sit and reflect. Whether your child died due to miscarriage, stillbirth, or infant death, may you find healing and peace with a public memorial to honor your child.
To have a baby's name etched onto one of the butterflies for the next engraving,  see information for a recurring gift of $20  or a one-time gift of $250 and submit it to The TEARS Foundation. NHAOH2022
Stay in Touch
Like us on Facebook: New Hampshire Chapter of the TEARS Foundation
New Hampshire Chapter Leaders
Kim Badessa: 603-546-8222
Email: NewHampshireChapter@TheTearsFoundation.org
Thank you to our 2022 Rock & Walk Sponsors!